Telnames on Twitter

Toptel

Senior Member





Join date

: 2012-07-02


Posts

: 448 Points : 12655


Reputation

: 319
Warning level :

Should Telnic rethink their approach?
These are the tweets from the last 24 hours: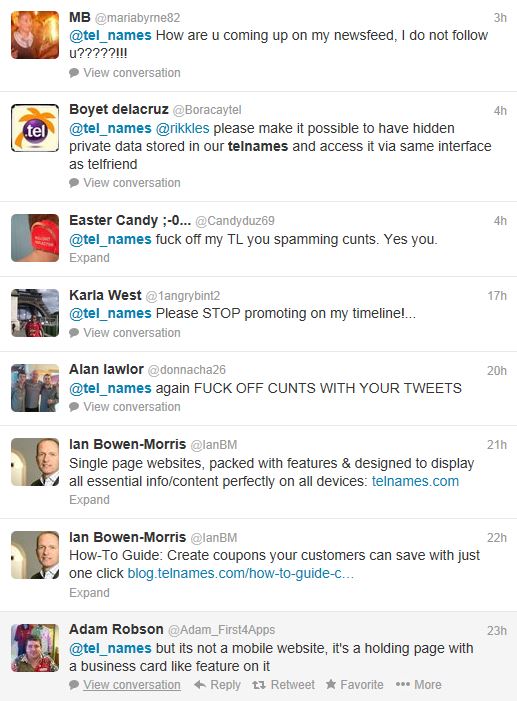 Spocky

Advanced Member





Join date

: 2012-09-09


Posts

: 123 Points : 4935


Reputation

: 80
Warning level :

I feel sorry for the guys at Telnic. Wherever they go, they gain only rejection. Hopefully they are not too proud to get the right consultation one day.

mikeseaton

High-Flyer





Location

: Dorset UK


Join date

: 2012-06-11


Posts

: 2238 Points : 45808


Reputation

: 843
Warning level :

Interesting to compare the differing levels of Twitter activity from
Telnames
(1504) and
Telnic
(31) - with Telnic's last tweet being dated 1st October you would be forgiven for thinking they had lost interest in Telnic .tels !
As always, actions (in this case lack of them) speak louder than words !
http://MikeSeaton.tel

Sunrise

Insider





Join date

: 2012-08-10


Posts

: 736 Points : 19895


Reputation

: 540
Warning level :

The last comment in the screenshot above is the most important.
Telnic should develop a mobile website with .tel and not only a business card.
Not much is needed for it, but it needs a little bit action by Telnic.

mikeseaton

High-Flyer





Location

: Dorset UK


Join date

: 2012-06-11


Posts

: 2238 Points : 45808


Reputation

: 843
Warning level :


fustachio.tel

Senior Member





Gender

:


Age

: 35


Zodiac

:

Chinese zodiac

:


Join date

: 2012-06-23


Posts

: 415 Points : 9642


Reputation

: 140
Warning level :

Hate to make this about me but that's the only perspective I can share at the moment in one post, so you should know everyone who does or tries to do anything that goes against someone else's grain gets that hate which is one of the main reasons I act like I do to ignore comments, posts, replies and what ever as I've lost interest in taking on random hate filled opinions from random individuals, as there is nothing to gain from it and it will just slow me down so in that respect I'm not a positive outlooking person but I try to be in other respects, and it's well known for most people who post YouTube videos to not bother with the comments because there's no accountability and everyone just says what they feel how ever nasty, so like twitter there is no shield you have to have thick skin or be able to just ignore it or not even use the service how it was intended for open communication, and for me here its just the same I'm not using it as intended I'm voicing my opinion as I'm entitled to do but that's it, I'm not trying to argue which is why I post very long in order to make sure I tried to get in what I wanted to say and can leave you all to the talk side and decide what you want to do because I've all ready decided even if I seem to roll though too many ideas I think I now have a perspective path as I've gained enough knowledge to pursuit it easier.

I personally being associated with a fandom people hate because of stereotype's puts me in the less likely to engage category as I expect what ever comes my way is in part a piece of the biosphere of negativity that exists due to how easy it is to sign up and spew hate filled rants that only serve as an outlet for the trampled and disenfranchised or abused Joe Public who wants to take someone else down a peg because they're different and doing a bit better than them, I don't wish to fall into this negativity so I don't go looking for it anymore on such services and if that makes my social life suffer so be it as I've grown to see these services as containing far too many people who have an inability to accept reason.

Its not as bad here as opinions have a purpose that's along an interest I care about so I do try to read but old habits die hard and I don't really wish to engage with many people at random even here unless I get to know them, because it comes down to trust and everything I've said above and while you may not trust me I have yet to build any with each of you directly which makes me more willing to engage with you, and that wont happen because most people here are hidden and are only here to post opinions on what they think is wrong just like twitter, and just like that I'm not that interested in hearing as I have my own opinion and I can post it in almost one post so I'm glad you post an opinion but I have no issue if you ignore mine as fair is fair it's just an opinion and the real people who we should be writing towards is those who have or wont sign up as that's the 99% rule. So feel free to not take on anything I've said it's really not an issue I just want to have my say and leave you too it.

So back to twitter its a vapid mix that I just don't want to engage with unless I know people, though I still try to tweet as everyone's entitled to but honestly with me its hard to get into that whole gaining followers and friends as when it comes down to social services used to connect like minded individuals I can't find people like me, now I wouldn't say I was brain dead or anything special but what ever way I grew up don't seem to match with what society did at what ever decade, I think because of a combination of my interests and personally plus the inability to wish to engage with what I assume will be hate puts me in a category far outside whats normal and makes me seem creepy, I mean right now you're sitting there reading this or not but if you are you're thinking I'm weird and well that's fine but it depends on how far you want to express that to me and I'm listening for it when I know it myself.

But anyway I'm not here to psychoanalyze myself I just wanted to leave this comment and say we're all different really and all have different ways of expressing ourselves but it's a shame that F this and F that is all society now cherishes as constructive criticism and when anyone else who expresses with deep thought is rail roaded as a freak as they're not following some soap opera with fake people who society thinks is real..

When I meet people like that I cant stand it, I can't stand dealing with it anymore I've been a mentor in the past and people are nice but you can't teach people like that respect and other ways of expressing themselves as you'll only be seen as some interfering busybody who they want to spit and punch and throw nasty insults at and this is coming from someone who likes some punk music and all that, as for twitter you can blame them for not listening also by providing a feature that people don't like because it takes control away from them over their fake personal space, the thing is they think they own their space on these social networks and they don't own a dam thing, the advert is there to keep providing a space where people like Adam can have his say on what ever crosses his mind, the same goes for those just using it to be rude.

But we PAID for our personal space on telnic and telnames proxies and people like Adam don't pay for anything, and if anything we have the right by ICANNS own agreement that we get what we ask for/need as we're paying customers.

But for that whole situation it would have been better if twitter had some advert feature that didn't allow people to right away tell them to F off as it does nothing towards making other business want to risk promoting themselves and keep twitter running when people like those can throw it in your face, putting it in with the tweets is a mistake, and unless you're a well known brand you have a better chance of not getting that kinda hate, but it will be worse for telnames as they think they have done enough for people to buy into it when that's false.

I did see the plumber promoted tweet on my time line, though the thing about twitter is people will rip you to pieces its the play ground of armchair socialites and trolls so they should be used to it by now or have prepared for this hate.

But it's clear they target the wrong people on twitter and end up with hate back and that's not their fault its twitters not being good enough, and from what Adam said it shows they don't offer enough for Joe public to like it, who really just wants it all free and their way and it's clear they're promoting it to people with no vision in where the service will go and grow with them, these people don't know how it will help them in the future so it all seems to support the idea they want sheep but they are targeting sheep with some form of rabies.

If there is a rethink it's to LISTEN to the customers you all ready have who have their own experience in many businesses and social avenues, they have over 100k of them at telnic and regardless of proxies we pay, Adam does not pay and does not want to pay for anything.because he can no see beyond his nose.

So for someone who seems to claim hes upfront on apps giving you the heads up on new things I kinda think its lame he has no vision beyond what he takes at face value, thus it almost makes me think hes the type that posts unedited PR.

Anyway for anyone who does read that I hope it goes someway to explaining why I don't engage much and that I don't intentionally wish to be rude but from my own personal experience I'd rather network before listing to opinions from people I cant tell if they're even trolls/telnic or just some random dude having a laugh at my expense.

I do hope though as this site grows I can get to know everyone personally and understand where everyone comes from so I'm more willing to engage, but for now just expect long posts and not so much talk unless I know you, and feel free to scroll past to the next commentator who really does wish to engage with your perspective or come say hello to me directly by showing me your te.

as

Advanced Member





Join date

: 2013-07-27


Posts

: 54 Points : 3069


Reputation

: 22
Warning level :

Justin Hayward was asked:
How about a few words from Telnic's Communications Director, been getting Spam emails trying to sell me Telnames. Is this a new initiative?
His answer:
This is a Telnic forum, so any questions for other service providers and any campaigns they're running regardless of who they are would probably be best directed to them. I'm not involved in any outbound email marketing campaigns so I can't help you there.
Telnic continues to pretend that Telnic and Telnames are not the same company!
Why is the Business Development and Communications Director not checking with his colleague sitting in front of him in the same office?

Tim Spears

Senior Member





Join date

: 2012-09-21


Posts

: 345 Points : 10551


Reputation

: 260
Warning level :

Doesn't matter if you want to read something about Telnic / Telnames on Google, Twitter or in forums, it's hard to find anyone enjoying the .tel service. Why Telnic doesn't try to impress with a convincing product?