The Telnames Wholesale API (WAPI) is a collection of services and tools that together provide an integrated platform for you to manage the full lifecycle and content administration of your .tel domains.
WAPI consists of a combination of SOAP-based APIs and user interfaces giving you maximum flexibility and control over the way you integrate .tel into your own product provisioning and billing systems.
This description covers the integration of a '.tel Domain Name Check' allowing Value Added Resellers to integrate a '.tel Domain Name checker' into their own web site, in turn allowing customers to search and confirm the availability of their required domain.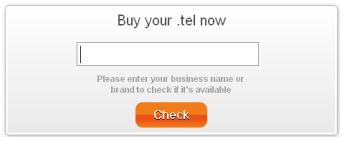 In order to integrate this functionality into your own site, please see below the required API calls and available responses.
Inputs
Name
Type
Mandatory
Further Info
Domain Name
String
Yes
Value must represent a
valid .tel domain name
i.e.

Minimum 2 characters
(excluding .tel)

Maximum 63 characters
(excluding .tel)

Must end with ".tel"

Cannot be totally
numeric

Domain cannot begin or
end with a "-"
Outputs
Name
Type
Further Info
Availability
Integer
0 – If domain is
unavailable

1 – if domain is available
SOAP Endpoint:
https://wapi.telnames.com/wsdl/ApiService.wsdl
Example - Domain Available
Request
Code:

<soapenv:Envelope
xmlns:soapenv="http://schemas.xmlsoap.org/soap/envelope/"
xmlns:apis="http://www.example.org/ApiService/">

<soapenv:Header/>

<soapenv:Body>

<apis:checkName>

<apis:domainName>JohnDoe10.tel</apis:domainName>

</apis:checkName>

</soapenv:Body>

</soapenv:Envelope>
Response
Code:

<SOAP-ENV:Envelope xmlns:SOAPENV="http://schemas.xmlsoap.org/soap/envelope/">

<SOAP-ENV:Body>

<availability>1</availability>

</SOAP-ENV:Body>

</SOAP-ENV:Envelope>
Example - Domain Unavailable
Request
Code:

<soapenv:Envelope
xmlns:soapenv="http://schemas.xmlsoap.org/soap/envelope/"
xmlns:apis="http://www.example.org/ApiService/">

<soapenv:Header/>

<soapenv:Body>

<apis:checkName>

<apis:domainName>JohnDoe.tel</apis:domainName>

</apis:checkName>

</soapenv:Body>

</soapenv:Envelope>
Response
Code:

<SOAP-ENV:Envelope xmlns:SOAPENV="http://schemas.xmlsoap.org/soap/envelope/">

<SOAP-ENV:Body>

<availability>0</availability>

</SOAP-ENV:Body>

</SOAP-ENV:Envelope>